Thank you in advance for taking the time to read about the important Starfighters Foundation. We appreciate your consideration of supporting this very worthy non-profit organization. Please know that your contribution will have a great impact on helping us achieve our goals.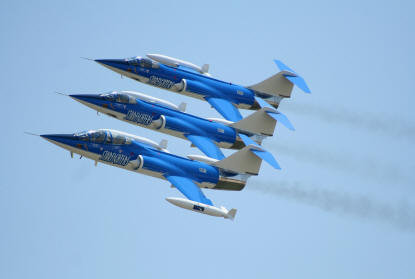 THE STARFIGHTERS FOUNDATION MISSION
EDUCATION
Many of America's brave men and women have died honorably while serving America for our freedom and rights. Through their sacrifice we continue to live in the best country in the world. Most of these "fallen heroes" have left behind families, many with children that desire a college education. Sadly, due to unfortunate circumstances, many are left behind without receiving the opportunity to be all that they can be. It is our goal for the Starfighter Foundation to serve in return by providing a scholarship program for children of our fallen military personnel. Your contribution will help provide children an education that they may otherwise not receive due to a lack of funding.
It is the Starfighters Foundation's intent to create a "hands-on" local and national internship program for aspiring young A& P mechanics. We will set up a program for schools to get up close and personal with the jets and the people that make the Starfighters team possible.
The Starfighters pilots love to visit schools and talk with students to relay the important message of discipline, moral integrity, positive attitude, setting and achieving goals, staying in school and pursuing one's dreams while discussing the significance of the historical F-104 aircraft and the aviation industry. The Starfighters are happy to speak at schools whenever possible and are open to any special speaking engagement or event requests that you may have.
PRESERVATION OF HISTORICAL AIRCRAFT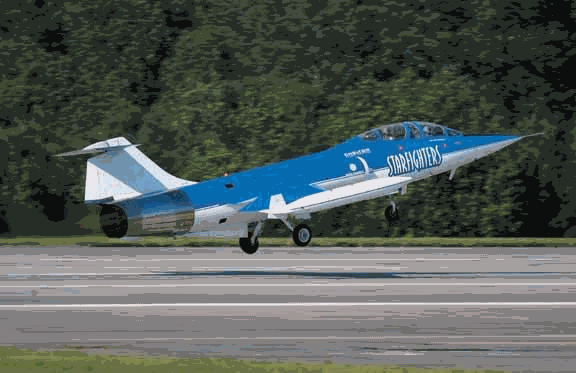 The F-104 was the vision of Clarence "Kelly" Johnson of the Lockheed "Skunkworks", and has been flown by some of the best pilots in the United States and abroad. The F-104 is the record setting aircraft that takes NASA astronauts to operational fighter altitudes of over 103,000 feet, and is known as the world's fastest operational fighter achieving mach 2.2. We need your support to preserve the history of the F-104, create a museum in our hanger for public enjoyment, maintain the current operation of the jets, keep our pilots current, and keep the restoration projects on schedule.
CAUSE MARKETING PROGRAMS, SPONSORSHIPS & CONTRIBUTIONS
KVDV, Inc. will be spearheading this initiative. KVDV, Inc. is also looking forward to working with any company that would like to consider a Cause Marketing program that would include Starfighters in any way. We would also appreciate sponsorship of any of our aircraft at air shows we fly. If you would like to send a contribution now, Checks should be made payable to the Starfighter Museum Foundation, Inc. and sent to the address below. The Starfighter Museum Foundation, Inc. is a nonprofit organization and your contributions are tax deductible as allowed by applicable tax codes. Our Tax ID # is 202540425.
ABOUT THE STARFIGHTERS
Based in Clearwater, Florida, the Starfighters is civilian owned supersonic jet demonstration team in the world. The historically significant supersonic F104 Starfighter is the fastest single engine jet ever built. All Mercury, Gemini, and most Apollo astronauts were trained in this aircraft. Chuck Yeager, as seen in the film "The Right Stuff", flew this jet to over 100,000 feet. The F104 continues to hold speed and altitude records.
NASA and Starfighters NASA and Starfighters Inc. recently signed a cooperative Space Act Agreement, paving the way for future commercial space tourism. On April 17, several major news affiliates covered Starfighters flying in the first of a series of test missions that will help NASA assess the potential impacts of sub-orbital and orbital commercial space tourism flights from the Shuttle Landing Facility. Twelve astronauts, the NASA Advisory group, the Director of NASA, and other VIPs were in attendance. "This is a key step toward expanding routine use of the SLF by non-NASA flight projects, including commercial sub-orbital and orbital space launch vehicles," said Kennedy Space Center Director Bill Parsons.
The Starfighters team exhilarates millions of fans at major air shows and key sporting events each year. With up to 1.5 million spectators per event, air shows are second only to NASCAR in attendance levels. During the past decade, air shows had nearly twice the total attendance of NFL football.
Rick "Comrade" Svetkoff is the team's lead pilot and principal owner of the F-104s. He is joined by highly decorated pilots Dave "Shark" Waldrop (3 Silver Stars, 3 DFCs), Brig. Gen. Steve Ritchie (USAF Ace flying the F-4 and the youngest Top Gun instructor pilot ever), and Wolfgang "Wolf" Czaia (lead test pilot for the Me262 program). Although the Starfighter team has been a headlining performance at air shows across North America, it is important to continue adding to our team. This year we will have a third F-104 Starfighter aircraft for our performances and expect to begin restoration of several more for 2008. Together with first class ground support personnel, the Starfighter team is poised for exciting team growth in years to come.
THANK YOU FOR YOUR SUPPORT
We would greatly appreciate your support of this very worthwhile cause. Please email us at the address below and/or call Dawn Vreeland at 303-680-5640 or 303-888-6899 (cell) with any questions you may have.
We would love to have you as a partner in this rewarding endeavor. Thank you!
Starfighters Foundation
Aurora, Colorado 80015
1-303-680-5640, 303-888-6899 (cell)
Email